Phone#: +27 (0)11 310 8660 / 2324 / 7113 Fax#: +27 (0)86 545 6012

Diesel Driven Mobile Rebar Cutter and Bender



&nbspEMPOWERDEX BEE Rating
"AAA" - Level Two Contributor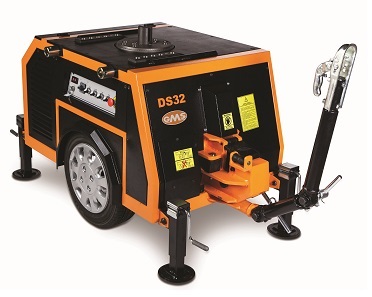 This Lombardini Diesel Engine driven mobile rebar cutter and bender, with an electric starter, will cut and bend rebar up to a diameter of 32mm. Cutting and bending is achieved through a hydraulic system. It requires minimum maintenance. It is easy to use and comes with tooling to do stirrup bending as well as other standard bending operations. This compact self sustained mobile rebar cutter and bender allows for movement over vast distances and into remote areas.
| | | |
| --- | --- | --- |
| Strength of Steel | Pieces | Diameter |
| 45kg/square mm | 1 | Ø 32mm |
| 45kg/square mm | 2 | Ø 22mm |
| 65kg/square mm | 1 | Ø 25mm |
| 65kg/square mm | 2 | Ø 16mm |
| 85kg/square mm | 1 | Ø 20mm |
| 85kg/square mm | 2 | Ø 16mm |