Phone#: +27 (0)11 310 8660 / 2324 / 7113 Fax#: +27 (0)86 545 6012

Casing Spacers, Centralisers & Pipe Seperators



&nbspEMPOWERDEX BEE Rating
"AAA" - Level Two Contributor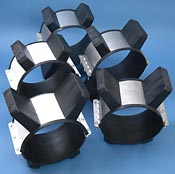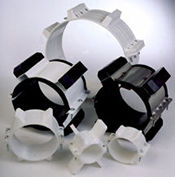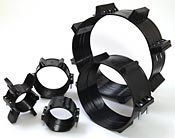 CASING SPACERS & CENTRALISERS
APS Casing Spacers centre water and sewer pipes in casings with ease of installation, are virtually corrosion proof and provide insulating protection from a possible electrical shorting between the carrier pipe and casing. No special tools are needed, no grease is used and they are easily bolted on by a single worker. APS Casing Spacers eliminate the need to fill the casing annulus with sand which is extremely labor intensive. Sand in the annulus also acts as an electrolyte thereby introducing unwanted current to the steel or ductile iron. With no need for this fill, APS Casing Spacers are your answer to lower installation costs with continued access for maintenance.

Casing insulators are used to support and electrically insulate a pipeline from a casing pipe through which it must pass and are used in river crossings, canal crossings and bridge crossings as well as highway and railroad crossings. We recommend installation of polyethylene casing insulators every 1,8 to 2,4 meters.

* NEW FIELD-ADJUSTABLE RUNNERS FOR CASING SPACERS.
APS has recently developed Field-Adjustable Runners for Casing Spacers with 200mm wide bands.

FACTS & ADVANTAGES:

Field-adjustable.
Used for easy grade and elevation adjustment of gravity sewer lines.
Lend the ability to stock in-house decreasing inventory up to 75%.
Stock-able spacers will include 10-12 bands up to 600mm.
Runner sizes from 25mm to 150mm in 12.5mm increments.


STAINLESS (Model SSI) and CARBON STEEL (Model SI) SPACERS
Heavy duty two piece stainless steel or carbon steel bands by APS serve virtually every piping application and should be utilized inside casing that is 2 or 3 pipe sizes larger than the carrier pipe. APS steel band casing is available in two widths. 8" width is recommended for carrier pipe 4" to 24". 12" width for carrier pipes 26" to 120" and larger. The band is constructed of 14 gauge steel with a 90 mil EPDM liner. Stainless steel spacers are available in grade 304L. Carbon steel spacers are available with a thermoplastic powder coating for extra corrosion protection.


INJECTION-MOLDED POLYETHYLENE SPACERS
Advance casing insulators are manufactured from injection molded high density virgin polyethylene. Benefits of polyethylene include high impact strength as well as abrasion resistance. Once installed, the low friction of polyethylene facilitates easy installation into the casing. Molded into the inner surface are grooves which prevent slippage of any carrier pipe coating. The Advance casing insulators have excellent dielectric resistance and low moisture absorption which yields minimal electric current loss and no impairment of cathodic protection. Sizes are available from 25mm through 1200mm with a standard runner height of 25mm. Casing insulators from 25mm through 300mm comprise two halves; two pi and four pi sections make up 350mm and above. Advance casing insulators are lightweight, economical and easy to install. Only a screwdriver is required for installation.

CUSTOM FABRICATION
APS is capable of manufacturing spacers and end seals for specific customer requirements. Our engineering staff has experience in the following:
Placing multiple carriers within one casing
Positioning thermally insulated pipe without damage to insulation
Centering small carriers within large casings
Positioning gravity sewer to on-grade requirements
Casing spacers for all types and sizes of pipe above 50mm
APS CASING SPACERS: THE RIGHT CHOICE
Advantages: with proven dependability and ease of installation, Advance Products and Systems' casing spacers easily outperform the labour intensive, inefficient and unreliable wood skids. Just check the comparison below.
Easily and efficient to install requiring no grease and no special tools
Installation by one person
Slides into place with ease. Coefficient of friction = .1
Requires no backfill
Decades of proven reliability
Insulating and long term corrosion protection
SKIDS & STRAPS
Difficult to install, cumbersome, time consuming and hard to secure accurately
Requires several workers an extended time to position
Very resistant to sliding often damaging skids enough to need replacement before installation is complete
Requires annulus space filler, such as sand, pea gravel or grout
High failure rate
Non-insulating and allows bacteria and differential Oxygen concentration corrosion